Custom neck ribbons, just like custom medals, can delight your participants and showcase your event for all to see. In fact, some people even say the custom ribbon is a piece of art all on its own!
Your neck ribbon must be just as impressive as the custom medal it's paired with.
There are 4 things you'll want to take into account when thinking about ribbon design to ensure your ribbon is just as great as your custom medal.
What Are Your Color Considerations?
One of the most important things for event directors to understand when ordering custom neck ribbons is the difference between Sublimated Ribbons and Screen Printed Ribbons.
The main difference between these two ribbon types is how color is presented and the options at your disposal for design. If you have a basic font or one-tone (color) graphics, it's easy to see how choosing a screen-printed ribbon makes sense.

However, if you have sponsor logos, a particular style, or specific needs and design requirements, a sublimated ribbon is best. The sublimation process allows you to coordinate colors with medal artwork and closely approximate PMS (Pantone matching system) colors.
How Will the Ribbon and Medal Interact?
By "interact," we mean two things:
How is the medal physically connected to the neck ribbon, and
How are the medal design and the neck ribbon design related?
There are two common ribbon attachments: bar attachments and loop attachments. A loop is like a regular "V" sewn into the front of the ribbon. The bar attachment option affects how the ribbon lays when worn around your neck.


Both options have some constraints to consider when setting up the artwork. For instance, on a bar ribbon attachment, you cannot put any logos at the nape of the neck because that's where the production facility sews it together.

You can have a beautiful medal and stunning ribbon when it comes to design, but if they clash, both will look shoddy. Therefore, it's super important to make sure the custom neck ribbon and custom medal play well off one another.
Are the Ribbons and Medal Sizes Coordinated?
Generally speaking, there are two widths of ribbons, either 1" ("narrow") or 1.5" ("wide"). Additionally, Custom ribbon lengths commonly range from 32" to 36".
Typically medals of 2" or smaller will pair well with a 1" (narrow) ribbon, and medals larger than 2" work best with a 1.5" (wide) ribbon. These are tried and true combinations and set an excellent standard for how medal size coordinates with neck ribbon size.

Imagine if you took the time to create a huge 4" medal with an amazing custom design, and you hung it from a super-thin, flimsy 1" neck ribbon. Not only would this imbalance take away from the great custom medal, but recipients could also perceive it as a disappointing, low-quality award. You can see how proportionality has to be taken into account for the overall medal and ribbon design, which many people fail to consider.
What Is the Orientation of Text and Images?
The orientation of the logo and text is essential. When worn around the neck, the text and logo should be readable by others. In other words, the text and logo should be right-side-up, and your design will dictate how the text and logo appear on the front and back of the ribbon. In addition, the placement of these essential elements varies when used on a sewn-in-front or continuous loop ribbon.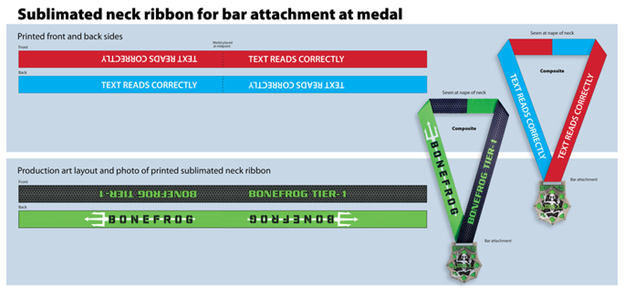 Design the Perfect Neck Ribbon
There are a lot of nuances when it comes to custom neck ribbon designs, which is why it's important to work with a trusted and reliable medal partner to get the job done right.