Looking to build recognition for your event and attract more sponsors and participants? A beautifully designed custom medal with an equally great neck ribbon is one of the best ways to accomplish that goal!
Let's go over a few simple, yet handy, tips to ensure you award participants with "Olympic Caliber" custom neck ribbons at your event.
What Does "Olympic Caliber" Really Mean?
Simply stated, Olympians are considered the best of the best, so every aspect of the awards they receive for their achievements match that superior standard. Thankfully, though, you don't have to host an Olympic-status event in order to get an equally amazing, high-quality medal or ribbon design. With attention to a few specific details, your neck ribbon design has the ability to elevate your award and take it to the next level.
One key factor to consider is—just like your medal—your custom ribbon should be special and restricted to your specific event; no one can get a custom award ribbon (or medal) as amazing as this one unless they participate in your event. Creating a sense of exclusivity and prestige around your event not only keeps your community of participants interested but doing so can also help grow your event by attracting the attention of potential participants and sponsors.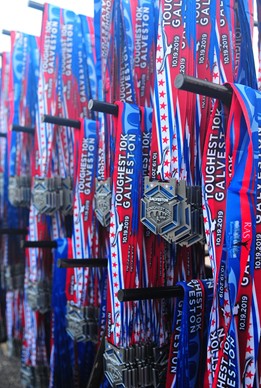 To be considered "Olympic Caliber," your neck ribbons should be beautifully designed with colors that pop, yet they make sense and compliment the medal. You'll also want to ensure the materials and method (for designing and printing on the ribbon) are high-quality. Nine times out of ten we'll recommend using a Custom Sublimated Ribbon for the cleanest, most professional look (and a very soft, non-scratchy feel!).
Dye sublimated ribbons allow you to print extremely detailed and colorful information on a ribbon (e.g., intricate and/or colorful logos and highly detailed text). You can even take your custom neck ribbon design a step further and highlight the theme of your event (nautical, Halloween, pirates, etc.) throughout the design of your ribbon.

One of the top benefits of pairing an awesome custom medal design with an equally awesome neck ribbon is that you're guaranteed to have your event stand out from others. Participants will be 100% impressed once they receive such a treasured emblem of achievement. Think about it—you don't want to be the only event in the community and/or industry that gives out an awesome custom medal hanging from a plain and flimsy neck ribbon, do you? When you pair a colorful and unique ribbon with an amazing custom medal, your award stands out, and your event does, too. These details may seem small or insignificant, but in reality, they come together to help boost awareness and recognition of your event.
Unique, custom neck ribbons will also add a sense of professionalism that elevates your event because of the higher perceived value and quality of your custom ribbons. By giving a little extra attention and thought to the neck ribbon of your award, it becomes a treasured collectible for the participants. They'll be ecstatic to flaunt their award with pride and help attract the interest of potential participants.


If you're going for a one-of-a-kind, high-quality neck ribbon for the first time, the good news is that the process can be simple and straightforward - our experts can make it easy by guiding you through the process.

Going the custom ribbon route presents new promotional and marketing opportunities. Take advantage of this additional piece of real estate with an extraordinary design to help give your event a more "Olympic Caliber" look and feel.

Need help designing your custom neck ribbon? Start the conversation with a member of our reliable medals and awards team to create a unique medal and neck ribbon that is sure to wow participants at your event.