Running great distances is a remarkable feat. Completing a road or trail race can feel like a glorious accomplishment, so participants deserve a one-of-a-kind medal to wear and proudly display. From beginner runners signing up for their first 5K to marathon athletes preparing for another 26.2 miles—they deserve a running award worthy of their accomplishment.
As a race director, you probably know finisher medals are a prized possession and physical reminder of achievement. Custom medals have been used to reward excellence in the Olympics for over a century and have become the standard in the road race industry.
Not only do custom running medals become a keepsake for recipients, but they also provide additional benefits that make your event even more successful.
The Benefits of Custom Medals
Custom medals offer numerous benefits that can significantly enhance your running event. Here are some advantages to consider:
Increase Name Recognition
By creating custom medals with your event's logo and branding, you enhance the recognition of your event. Participants, sponsors, and spectators will associate your event with the unique medal design, boosting its reputation and visibility.
Add Professionalism to Your Event
Custom medals add a touch of professionalism to your event. They demonstrate that you value your participants' efforts and take pride in delivering a high-quality experience. A well-designed medal can leave a lasting impression and contribute to the success of your event.
Becomes a Collectible Keepsake
Running events bring joy to participants who collect medals as a reminder of their achievements. Participants are encouraged to cherish and display their accomplishments when they earn well-crafted medals. As they proudly display their race medals, they become passionate advocates for your event, spreading the word and generating greater awareness.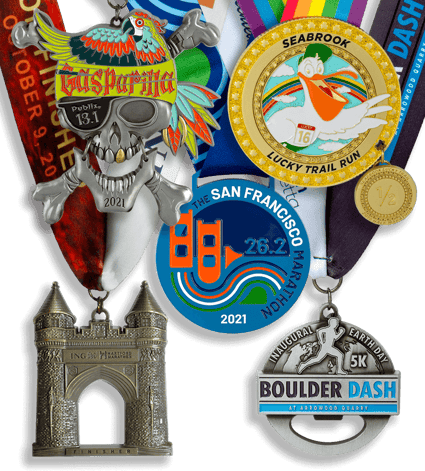 Get Media Exposure and Recognition
Unique and visually appealing medals have the potential can go viral on Social Media. Runners love to show off their finisher medals on their social channels. Journalists and photographers often seek out distinctive awards and the trending stories behind them. Outstanding medals get people talking, producing word-of-mouth advertising that can help promote your event.
Stand Out Among Other Running Events
A standout medal design can make your event more memorable and appealing in a crowded field of running events. Participants are more likely to choose an event that offers a distinctive and desirable medal. A well-designed medal can symbolize prestige and create a sense of anticipation and excitement among participants.
Memorable Medal Designs
When creating a running medal, careful consideration should be given to its design to make it memorable. Here are a few key elements to remember:
Well Thought Out Designs
A well-thought-out design captures the essence of your event and resonates with participants. Consider incorporating elements such as landmarks, iconic symbols, or themes that reflect the spirit of the race. Trust our talented medal designers to bring your vision to life and create a medal that participants will proudly wear and display.
Event Logo / Theme
Incorporate your event logo and theme into the medal design to reinforce your brand identity and create a sense of unity for your event. Consider how the logo and theme can be creatively integrated into the medal design, making it instantly recognizable and unique to your event.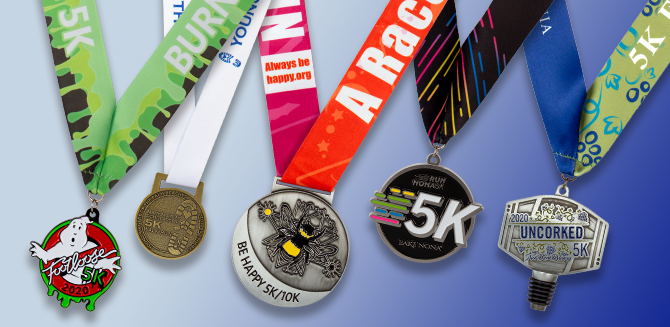 Medal and Neck Ribbon Synergy
Ensure that the design of the medal and ribbon work harmoniously together. The ribbon provides an opportunity to reinforce your branding, incorporating colors and logos that align with your event's visual identity. A cohesive medal and ribbon combination adds to the overall aesthetic appeal.
Popular Running Medals
Now, let's explore some popular types of running medals that participants love the most.
Die Cast Running Medals
Die Cast Medals are made using a mold and have a substantial weight and solid feel. They're high-quality medals that can be used for virtually any type of running event, from small 5K races to large marathons. Die Cast Medals have a traditional look and feel, accommodate many design features and options, and can complement any budget.
Wooden Running Medals
Wooden medals provide a unique and natural look and feel. They can be crafted from sustainably sourced wood, aligning with the theme of your event. Wood medals, available in red alder, walnut, and bamboo, are a great choice for races that prioritize sustainability and/or have nature-inspired themes or events. Wooden running medals are produced in various shapes and sizes, offering versatility and eco-friendly charm.
Acrylic Running Medals
Acrylic medals offer a classic etched or modern, vibrant look. They can be almost any unique shape, size, and full-color picture-perfect design. Acrylic running medals are an excellent choice for events looking for a contemporary and eye-catching design that stands out.
Factors like medal quantity, material, customization options, and delivery time can impact your options and influence your decision.
Conclusion
Running medals play a crucial role in recognizing the achievement of participants and elevating the overall experience of your event.
When ordering custom running medals for your event, it's especially important to consider your budget and timeline. Collaborate with a reputable medal manufacturer who can guide you through the process and help you find the best options that align with your needs.
Start the conversation with one of our medal experts for guidance in designing the perfect running medals. They can help bring your vision to life and ensure your event leaves a lasting impression on participants and spectators alike.