The event you're hosting is in just a few short weeks. You want tons of people to register, and you want to WOW participants, attendees, and sponsors with a unique event and high-quality awards.
With your event quickly approaching, you may be wondering if it's already too late to order custom medals. Thankfully, you're in luck! There are still a handful of great options for you.
These custom medals are ideal for a quick turnaround:
Custom Insert Medals
Custom Insert Medals are ideal when you need a colorful custom medal design in a hurry at an economical price point. For example, you can expect prices to range from $1.50 to $3.00 per medal, depending on quantity.
They're available in one shape (round) and three different sizes (2.5", 2.75", and 3"). Choose from several standard metal insert holders in gold, silver, or bronze. After choosing your holder, a unique color insert is created with your artwork. The insert is then adhered to your holder of choice, resulting in a one-of-a-kind custom medal.
Custom Insert Medals have a fast turnaround, making them especially great for last-minute custom medal orders. Most orders can be completed in a few days*, but larger orders may take longer. However, you can rest easy knowing you'll receive them fast and on time for your event.
Custom ColorMax Medals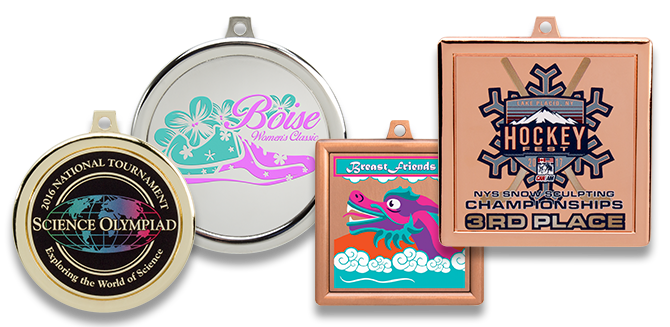 Custom ColorMax Medals have a similar look and feel as premium Die Cast Medals since they are heavy, extra thick (4mm) Die Cast Medals with full-color artwork.
However, unlike Die Cast Medals, Custom ColorMax Medals are available in two sizes: 2.5" and 3". They come in just two shapes (round or square) and are available in shiny gold, silver, and bronze finishes.
Another reason to love Custom ColorMax Medals is their fast turnaround times; small to medium orders usually require a production time of three days* after final artwork approval. Larger orders may take longer.
If you're looking for a quality custom medal with unlimited colors and a high perceived value, ColorMax Medals are likely a perfect option for you.
Custom Acrylic Medals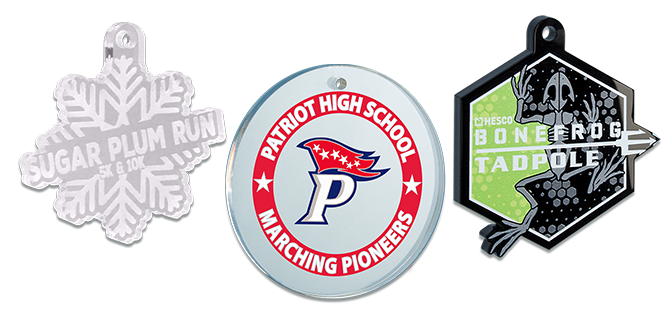 A Custom Acrylic Medal may fit the bill if you want a different look and feel from the more traditional cast metal. Acrylic Medals can have a classic frosted etch and/or be designed with beautiful color printing.
One very notable feature of Custom Acrylic Medals that sets them apart from Insert and ColorMax Medals is that they can be made in virtually any unique shape or size. Acrylic Medal orders can typically be turned around in 1-2 weeks* after artwork approval.
Of course, like all of the medals listed in this article, Custom Acrylic Medals can be a nice option if you're short on time but still want a unique custom medal for your event.
Custom Wooden Medals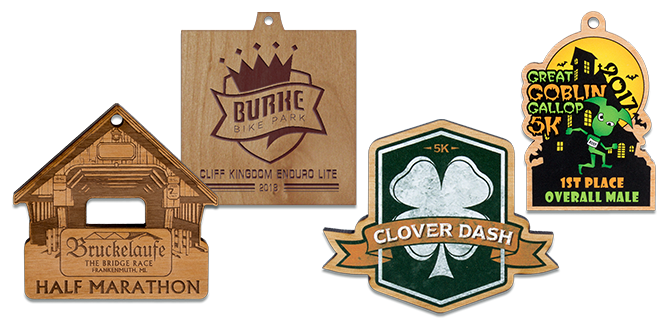 Wooden Medals are another great custom medal option if you are looking for a quick turnaround. They can be the perfect fit for eco-conscious events or specific outdoor events such as trail runs or bike races. Custom Wood Medals are also a good option for those looking to use more sustainable materials.
Like Acrylic Medals, Wooden Medals come in a variety of shapes and sizes (anywhere from 3" to 5"). They're laser engraved to keep that natural wooden look, and if desired, colors may be added to your design.
Wood Medals are considered a cost-effective option and can typically be turned around in 1-2 weeks* after artwork approval. Wooden Medals can be a unique way to make your event stand out from others.
You Have Options (Even if You Don't Have Time)
If you're on a tight schedule, there are still plenty of great custom medal options for your event. Every situation is unique, and your custom medals and awards should be, too! Contact us to learn more about the perfect solution for your timeframe.