When ordering custom medals and awards for your event, your hope is that they will be long remembered and appreciated by your participants.
Sadly, some custom medals are completely forgotten about or remembered for their poor design and cheap quality rather than commemorating the amazing event.
Luckily this is a completely avoidable scenario!
Here are three tips to help you choose medals and awards for your next event that will be remembered for all of the right reasons.
Tip 1: Pick a Theme, Style, & Elements
One of the best ways to get the most out of your awards is to choose an overarching design, theme, or style. Look at what makes your event unique. This may include:
Theme - Holiday (e.g. Turkey Trot), Nautical, Pirates, etc.
Style - Modern, Classic, Whimsical
Elements - Logos, Tag Lines, Landmarks

…You get the idea.
Use these design elements to create a cohesive look and feel that ties your event together and brings more recognition to your event. The Detroit Free Press Marathon Medal (below) is a perfect example of a great finished product with a cohesive medal and ribbon design.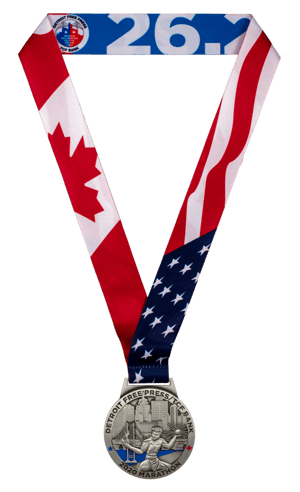 Detroit Free Press Marathon medal - a great example where theme, style, & elements of the design represent the event.
If your sponsor's logo colors are blue and silver, you may decide to have a beautiful silver medal complemented by a stunning blue neck ribbon. You'll create cohesion to the aesthetics of your event, serve your sponsors, and delight your participants.
Tip 2: Think Outside the Box
Tired of basic, cookie-cutter medals? Lean on an experienced medal vendor to help find a way to make your medal stand out.
It might sound challenging to "think outside the box," if you're unfamiliar with custom medals, but it's actually easier than you may think. The Fargo Mini 10K custom medal (below) is a perfect example of how you and your medal vendor can utilize unique medal shapes and sizes to get a one-of-a-kind award for your participants.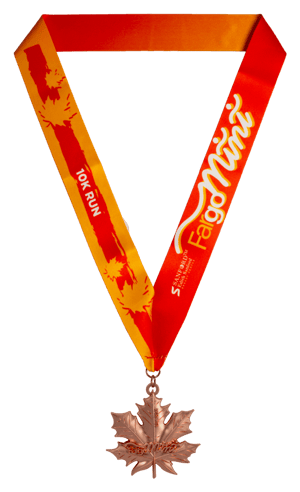 The Fargo Mino 10K medal uses a unique shape for a one-of-a-kind custom
meda

l.
Another way is to give your medals some kind of practical use, like a belt buckle, bottle opener, or coaster. These make for a great conversation piece and odds are that your participants will keep that medal handy long after the event is over.
Looking for something to give to participants in addition to custom medals? Custom-shaped Acrylics or ColorMax Plaques are a great way to recognize the top performers and sponsors of your event. Maybe your participants keep them on display at the office where they become a focal point of conversation for years to come. Challenge Coins and Lapel Pins are also wonderful alternatives that recipients will hold dear.
Choose awards that give recipients the most opportunity to show them off. This not only increases the value of the award in the eyes of your participants but also provides the most return on investment for your organization.
Tip 3: Let the Pros Help
Ordering custom medals and awards for your event does not have to be a stressful, rushed endeavor. Work with a team of experts that will help you complete the process with confidence.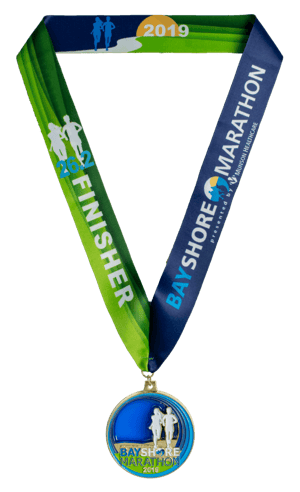 The Bayshore Marathon custom medal
The best custom medal and awards vendor understands the ins and outs of creating medals and awards that meet the myriad -and sometimes complex needs- of your events. They will provide guidance on:
Common standards and practices
Creative alternatives
How to get the biggest bang for your budget
What mistakes to avoid


Talk to the Experts
Medals and awards play a crucial role in the success of events. From medals to plaques, to acrylics, to lapel pins, to coins...there are so many options to choose from. Fortunately, you don't have to wade through those choices alone.
The Maxwell Medals and Awards team is here to guide you in the right direction. Contact us and let one of our experts help you find or create the perfect medals and awards for your next event.