As an event director, you want participants to admire and share the custom medals, ribbons, trophies, and other awards with as many people as possible because it's a great way to spread awareness and attract more participants to your events. For this reason, one of the best ways to get people to show off and talk about their medals over and over again is to give your custom medals practical use!
Also, giving your medals a practical use is more appealing to sponsors because their branding will be seen more often, and increased visibility is ideal for business.

Finally, medals with practical uses are better for the environment. A usable product is less likely to be thrown away, so you're helping reduce waste by combining a token of accomplishment with a functional product.

Here are 7 popular ideas of practical uses for your running medals:
Bottle opener
Keychain
Coaster
Belt buckle
Refrigerator magnet
Wine stopper
Lapel pins and charms and attached piece (2-piece medal)
Lapel Pins and Medals Used in an Event Series
A great example of using lapel pins in combination with a medal can be seen in one of The National Cherry Festival's custom medals. They created the Michigan Harvest Run Series, where each participant received a custom medal that resembled a picnic basket. Upon completing each of the events throughout the summer, they received a lapel pin attached to the basket.

Each custom lapel pin featured a different design (cherries, apples, grapes, and hops) that represented the theme of each individual event. This compelled runners to register for all four events to fill their baskets. In addition, the pins can be worn individually, giving them a practical use that promotes your event.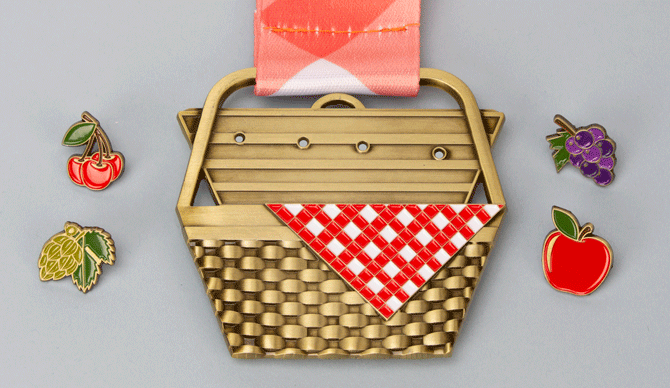 In this model, instead of someone paying $25 to participate in just one race, they're more likely to pay $100 to run in all four!

This is just one example of a practical use running medal, but the same principle applies regardless of what your medal looks like. If you're giving people reasons to come back and participate in more events, you're sure to bring in more participants, attract more sponsors, and collect more revenue.
Creating the perfect Practical Custom Medal
Need help choosing how to incorporate practical use in your custom medal design? Start the conversation with a member of our trusted medal and awards team to create a unique medal that is sure to wow participants at your event.